Financial Report 2020
For our network, 2020 was a year of profound reflection. It was a year that brought us much closer together in many ways.
The COVID-19 pandemic did not make a halt for local peacebuilding work. Rather it continues to threaten broader peace and stability by exacerbating persistent political, social, and economic structural inequalities. COVID-19 pushed us to re-write our annual plans for 2020 on very short notice and it forced our network to move online. We were able to meet in much greater numbers and much more frequently in the virtual space than when we met in person. However, we also noticed that our members who work in the most remote areas often lack a stable internet connection. We witnessed colleagues active in conflict zones suffer from frequent power cuts and we noticed the absence of simultaneous translation into local languages in virtual meetings.
As much as 2020 was a challenge, it was also the end of a journey and the beginning of a new chapter. After five years of impactful partnership, our Prevention Up Front Programme with the Dutch Ministry of Foreign Affairs came to an end. We are very thankful for the trust and support of our Dutch colleagues.
At the end of 2020, we launched our new Strategic Plan 2021-2025 which is the result of a truly collaborative effort between our network members. We are convinced that with our new thematic focus on locally-led peacebuilding, inclusivity and climate change and emerging threats we are on the right path to continue building peace together.
In this report, you will find the financial overview of 2020.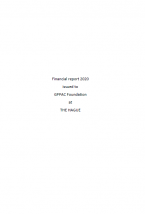 Download publication