GPPAC Youth Policy
The GPPAC Youth Policy defines objectives and strategies for increasing the effectiveness of the GPPAC network in promoting and achieving meaningful youth participation in conflict prevention and peacebuilding. It will provide a foundation and implementation strategy for mainstreaming youth throughout GPPAC's network structures and work. In doing so, the youth policy will also tackle the following questions:
Why is meaningful youth participation key in achieving GPPAC's mandate?
How can we mainstream youth in GPPAC's policies, programmes and projects?
The proposed policy is designed to inform participatory, inclusive and inter-generational peacebuilding strategies and programmes that systematically promote and ensure participation and contributions of young people in the work of GPPAC and its member organisations.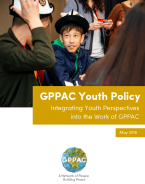 Download publication