GPPAC Alert - Venezuela in Crisis: Economic and Political Conflict Drivers In the Post-Chávez Era
The document authored by Dr. Andrés Serbin in collaboration with GPPAC and GPPAC member CRIES, outlines the political and economic drivers which have contributed to the current conflict dynamics in Venezuela. It focuses on the drivers and triggers that led to the crisis. Key issues described in the report include economic mismanagement and crisis, worsened by political stalemate and social/political polarization.
The report calls for a human security approach to inform the way out of the crisis. Until the fundamental grievances and political stalemate related to Venezuela's economic crisis have been unpacked in a dialogue setting, the conflict dynamics will remain. This will require a political solution and consensus with regards to economic and financial policies, and a multi-stakeholder engagement enabling confidence and institution building within Venezuelan society.
This document is part of the GPPAC Alert series, which aims to capture and disseminate the analytical insights of GPPAC members and partners on specific conflict issues, and to promote multi-stakeholder engagement on the conflict issue in question. The framework for GPPAC Alerts has been developed by the network's Preventive Action Working Group, which works to bridge the gap between conflict early warning and early response through tools such as conflict analysis, multi-stakeholder collaboration and action planning.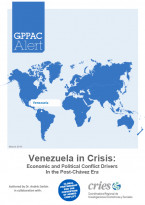 Download publication