EVOLUTION OF THE LEADERSHIP ON SUSTAINING PEACE: Lessons Learned from the Peacebuilding Commission
Since 2005, the UN Peacebuilding Commission has evolved into a stronger leader on peacebuilding and sustaining peace. The Commission's work plays a particularly critical role in advancing the understanding of peacebuilding beyond post-conflict reconstruction, as well as in amplifying voices of diverse peacebuilding stakeholders, including women, youth, and local communities. Its leadership is critical to advance the fundamental shift from reaction to prevention that we at GPPAC see as the foundation of sustainable peace.
In recent years, the engagement with civil society, commitment to gender equality and inclusivity, including the Gender Strategy and the Strategic Action Plan on Youth and Peacebuilding, and the focus on prevention have all increased. At the same time, enhancing the Commission's leadership hinges on the capacities, commitments, and political goals of Member States. Future progress will also depend on the Commission's capacity to sustain this energy. 
Building on GPPAC's established expertise in peacebuilding and sustaining peace, the below report aims to highlight key good practices in the work of the Commission in advancing sustaining peace and provide some priority actions that Member States of the Commission could undertake to further advance its leadership.
At GPPAC, we hope this report will be a valuable resource for all Member States, but particularly those on the Commission, interested in strengthening the Commission's leadership on sustaining peace.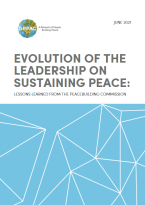 Download publication