Report: Building Sustainable Peace
Following extensive interview and desk based research, GPPAC and QUNO released their report, 'Building Sustainable Peace: How inclusivity, partnerships and a reinforced UN Peacebuilding Architecture will support delivery.'
This joint report builds upon our past peacebuilding body of work, including our 2015 report Filling the Gap, and serves to contribute towards the forward momentum on peacebuilding and sustaining peace. It is the result of desk research as well as interviews with over 35 diverse Member State and UN representatives at UN Headquarters, which provided ample opportunity to learn first-hand how the resolutions have shaped policy and practice by those intimately involved in these processes.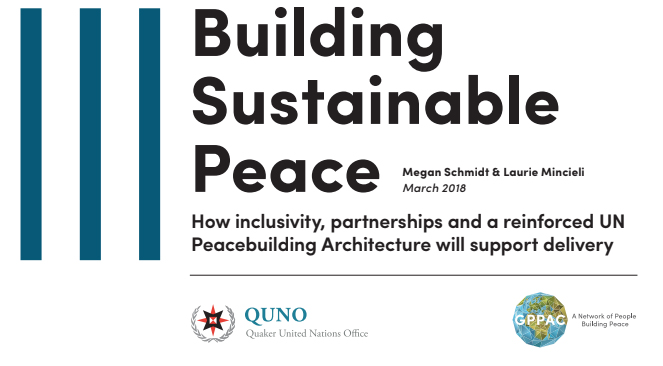 GPPAC and QUNO have a long-standing history engaging with the UN's Peacebuilding Architecture, and seeking to support and enhance the normative, political, and operational advancement of peacebuilding at the UN. We have continued to lend our voices and expertise during this dynamic time as peacebuilding and prevention have been brought to the fore of the UN's work following the adoption of the sustaining peace resolutions, as well as other milestones such as the progress made on the 2030 Agenda, the welcoming of the new UN Secretary-General (UNSG), and steps taken with regards to the UNSG's reform processes.
From our research report, we identified 5 key messages and developed practical recommendations for the UN, Member States and peacebuilding practitioners that will contribute towards the ongoing efforts to build sustainable peace. Our key messages include:
Sustaining peace should be recognised as an evolutionary development that builds upon decades of progress in the UN's understanding of peacebuilding and conflict prevention. It is also based on the UN's experience accompanying these processes at the regional and country level around the world.

Member States, with UN support, should now focus on turning words into action to deliver sustainable peace in a comprehensive, integrated and coherent manner at UN Headquarters and regional and country levels.

Sustaining peace provides an opportunity to learn from and build upon the work of the Peacebuilding Commission (PBC), but far more remains to be done to enhance the PBC's capacities.

Inclusivity and partnerships are critical to sustaining peace but remain under-utilised in practice.

Barriers and fragmentation that persist must be overcome.
To read the full report, please click here.