Operationalising the Peacebuilding and Sustaining Peace Agenda in Mozambique
This report first presents a brief overview of the peacebuilding context in Mozambique, briefly summarising the current state of affairs in the country, and highlighting key achievements and outstanding challenges in terms of peacebuilding and sustaining peace. The report then provides an initial assessment of the progress made in terms of implementing the Peacebuilding and Sustaining Peace Agenda in Mozambique by reflecting on the required shifts as identified by the Secretary-General on leadership, accountability, and capacity, operational and policy coherence, partnerships, and financing.
For each of these sections, the report first presents a brief descriptive overview of the key structures, frameworks, and instruments in place relevant for the required shift, followed by an analysis of how these have contributed to the UN's ability to implement the Peacebuilding and Sustaining Peace Agenda in Mozambique. Practical recommendations for the UN and the donor community working on peacebuilding and sustaining peace in Mozambique on how to further the implementation of the agenda include:
Address the gaps in peacebuilding leadership and capacities

on peacebuilding within the UNCT in Mozambique. More concretely, by streamlining work and clarifying leadership roles and responsibilities in relation to the Peacebuilding and Sustaining Peace Agenda and supporting the continuity of staff and stronger leadership, seeking to decrease the turnover rates and to improve the authority and visibility of those in leadership roles as well as increasing peacebuilding-specific expertise of staff members.

Capitalise on long-term planning

– even during times of emergencies – and ensure preventive reasoning and a conflict sensitivity lens applied to all of the work of the UN and ensure the continuation of efforts to increase the accessibility of the UN in the satellite offices to address the presumption of centralisation of the UN presence in areas that are often the most affected by crises in the country.

Provide a platform for partners to support critical peacebuilding needs

. Having one inclusive platform that gives voices to local civil society organisations while providing a space for dialogue between them, international partners, and the government could be fundamental to rebuilding trust between peacebuilding stakeholders. The UN would embrace the role of a convener.

Develop an institutionalised community engagement strategy

and promote informal and inclusive multi-stakeholder reflection and learning spaces as well increasing its support for civil society organisations engaged in conflict early warning and early response activities.

Contribute to a paradigm shift in financing for peacebuilding

. More concretely,

funds should be earmarked to require peacebuilding components in all sorts of development work. Further, creating a platform for donor dialogue on peacebuilding is required as well as ensuring that peacebuilding resources are accessible to local organisations.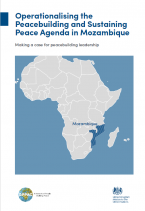 Download publication