Multi-Stakeholder Processes for Conflict Prevention & Peacebuilding: A Manual
It is widely acknowledged that conflict prevention is a challenge that can only be addressed through the combined effort of many different groups, agencies and sectors. Such different groups working together on a common objective, is what makes a multi-stakeholder approach. It assumes that bringing together the resources, knowledge, perspectives, skills and constituencies of the various stakeholders can lead to the political will, collective capacities and sense of ownership needed to prevent conflict and build sustainable peace.
The main benefit of the multi-stakeholder approach is that it allows for a systems approach to conflict, where the different actors and their initiatives are complementary to each other and part of a bigger, complex whole. This can enhance inclusivity and contribute to broader ownership of conflict prevention strategies. There is also much criticism of these assumptions, as well as known risks involved in setting up or participating in a multi-stakeholder process in a conflict context. To address the risks and enhance the possible benefits of such an approach, fundamental questions around legitimacy, power, and ownership must be acknowledged and addressed.
In this manual, we define multi-stakeholder processes (MSPs) as initiatives that convene three or more stakeholder groups, which together seek solutions and develop strategies around specific conflict prevention objectives. While we refer to techniques and lessons learned from dialogue and mediation, the manual mainly considers initiatives that are ultimately aimed at joint planning and action. These require more intense engagement, agreement on longer-term objectives, and means to ensure follow up and implementation.
Download the full publication below or download the handbook per chapter:
 
1. Acknowledgements & About this manual
The MSP Manual is a product of GPPAC's Preventive Action Working Group, as part of a process that was initiated in 2011. Section 1 gives more background into the events, rationale and methodology that led to this manual.
2. About Multi-Stakeholder Processes
Section 2 is an introduction to the idea, background and rationale of the multi-stakeholder approach. It describes the theory of change of this approach as related to conflict prevention and peacebuilding objectives, outlining in brief the benefits and risks, as well as possible alternatives.
3. Key Considerations and Challenges
Section 3 unpacks and responds to these benefits and risks by discussing the underlying issues that can make or break a multi-stakeholder process. Fundamental questions around legitimacy, power, and ownership are continuous considerations that need to be addressed from the outset.
4. Deciding for a Multi-Stakeholder Approach
Section 4 guides the practitioner in deciding when and whether to initiate or participate in a multi-stakeholder process. It discusses conditions and timing in the context, as well as the competencies and skills required of the organisers and the participants.
5. Steps in the Process
Section 5 outlines key steps in the process of initiating, preparing and designing, implementing, and concluding the process. This section also refers to a number of tools that can aid some of the steps and stages of the process.
6. Considering Stakeholder Groups
Section 6 gives a basic overview of some of the stakeholder groups that can be considered for the process, exploring their potential roles in conflict prevention, the risks involved and what type of preparation or entry point might be useful for getting them on board.
7. Tools and Templates
Section 7 provides practical tools to help plan and implement an MSP, to give the reader some optional support to take the practical steps of moving from theory to practice.
8. Practitioners' Reflections
Section 8 presents reflections on four diverse case studies—the Pacific, Kyrgyzstan, Kenya and Latin America—based on interviews with practitioners having been involved in multi-stakeholder initiatives in those regions on either national or regional levels.
9. Glossary
10. Bibliography
Annex: GPPAC's Preventive Action Working Group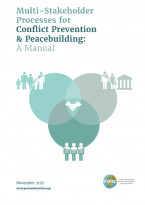 Download publication