Financing for youth-led peacebuilding at the country level: Defining avenues for coordination and cocreation for impactful action
On 30 January 2023, the Financing Taskforce of the Global Coalition on YPS, in partnership with the Permanent Missions of the Dominican Republic, El Salvador, Finland and Jordan to the United Nations, organised an informal discussion on financing for youth-led peacebuilding at the country level.
The informal discussion provided a space for representatives of the UN, donor community and national governments to exchange practices of engaging young peacebuilders in their work and reflect on the impact. The purpose of the discussion was to highlight the opportunity presented by the newly adapted resolution on Financing for Peacebuilding and the New Agenda for Peace to build an inclusive multi-stakeholder coordination platform for the regular exchange of knowledge on how to strengthen the participation of young people, including young women, in peacebuilding financing.
During the discussion, participants highlighted the following:
the long-lasting impact of sustainable and adequately supported leadership of young people in peacebuilding and sustaining peace.
the need to expand partnerships with non-traditional donors to meet the gap between peacebuilding financing and the needs of youth-led organisations.
that holistic and impactful peacebuilding requires integrated, cross-government approaches that are risk tolerant, sustainable and predictable.
acknowledged the effort by Member States, UN agencies and other stakeholders in advancing the financing for peacebuilding within the YPS agenda, including key national examples of prioritising trust in young people as key actors and co-creators for peace.
Participants also called for flexible, fluid, and quick-access funding channels to ensure accessibility of funding for youth-led initiatives and youth organisations and explored innovative financing approaches that expand access to funding for youth-led organisations.
The participants further raised the need for and interest in continuing coordination and learning among various stakeholders. The donor community does not adequately understand the impact of young peacebuilders' work, and the mechanisms for participatory decision-making remain weak. Therefore, a continuous exchange of learning among different partners, within and outside the traditional peacebuilding space, can help strengthen existing mechanisms of support for young peacebuilders and their work, as well as create opportunities for more coordination among donors that enables stronger impact of action, avoids overlap and ensures "best value for money.''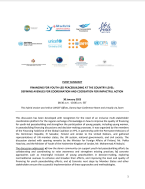 Download publication