Climate Security: Achieving Inclusive Peace, Development and Humanitarian Nexus
The Pacific Island region is recognized as one of the most vulnerable to the consequences of the ongoing global climate crisis, including environmental disasters, intense variations in temperatures, and extreme storms. Growing climate crisis insecurities at the local and national levels require a conflict prevention and human security approach. This is particularly important as current political strategies have a tendency to rely on military responses and the "securitization" of the climate crisis.
Read more in this policy brief.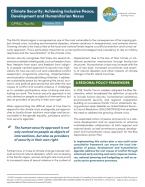 Download publication