And She Persisted for Peace: Redesign the Table
"2020 - It is time to redesign the table" is the central message in the publication "And She Persisted for Peace: Redesign the Table" of the GPPAC Pacific network. The report provides a key set of forward looking recommendations for national and inter-governmental leaders and organisations:
 
"Serious consideration must be given to shifting the power to national and local women's rights actors, to strengthen agency, amplify voice, and build on collaborative opportunities including women-led coalitions and feminist practices." explains Sharon Bhagwan Rolls, GPPAC Pacific Regional Representative and Chair of the GPPAC International Board. "We must support local innovation."

Redesign the Table comes ahead of the annual convening of the UN Commission on the Status of Women and ahead of the 20th anniversary of the adoption of UNSCR1325 addressing four key pillars of the WPS agenda: Participation in Peacebuilding and Prevention; Protection of Women Peacebuilders and Women's Human Rights Defenders; Relief and Recovery; and Accountability of State, Inter-Governmental Organisations and Multilateral Systems to the Sustaining Peace and Human Security Agenda.
The report draws on the rich experience and expertise of GPPAC Pacific network members in ending conflict and bringing peace to their respective countries including Fiji, Papua New Guinea including Bougainville, Solomon Islands, Tonga and Vanuatu.
Since 2007, the GPPAC Pacific network have collaborated and engaged in local, national, as well as regional and global processes bringing attention to how the Women, Peace and Security (WPS) agenda can be localised into peacebuilding, non-violence and conflict prevention action in the Pacific region. The report was coordinated through the GPPAC Pacific Secretariat – Transcend Oceania, through the GPPAC WPS small grants facility, supported by SIDA.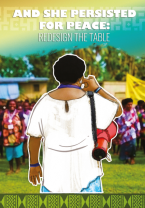 Download publication