Peaceful societies - the orphaned SDG target?
Local progress towards SDG 16+ peaceful, just and inclusive societies and what comes next.
Five years after the launch of the Sustainable Development Goals (SDGs), civil society engagements, and review of local implementation provide one clear message:
There is not enough progress on SDG 16 and all other related SDG targets that drive peace, just and inclusive societies (SDG 16+).
This is worrisome as delivery on SDG 16+ impacts our joint ability to achieve sustained progress on all goals. Governments, civil society and their partners need to accelerate and broaden bottom-up, people centered realisation of SDG 16+.
GPPAC's policy brief below presents  draw on in-depth SDG progress reports from Cameroon and Ghana and builds on experiences from other GPPAC members across the world who have worked on the SDGs or accompanied official Voluntary National Reviews (VNRs). 
Check out the main conclusions of the policy brief in this one-pager.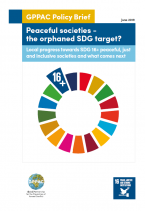 Download publication