#SOSNicaragua: an interview with activist Chale Guadamuz
Today is Peace Day. For this special day, we have sat down with Chale Guadamuz, a Nicaraguan activist in exile who is working through the #SOSNicaragua network. He and many other citizens have mobilized to protest an increasingly oppressive regime. Chale told us about the situation on the ground and implores action from civil society groups and governments around the world. Protests in the country began on April 18th, 2018, after which the Ortega administration has been accused of using excessive lethal force to quell them. To date over 350 Nicaraguans have died with many more injured and missing, creating a humanitarian crisis. Chale himself is visiting the Netherlands on a visa to raise awareness; knowing that he is not welcomed back in Nicaragua, his future is in limbo.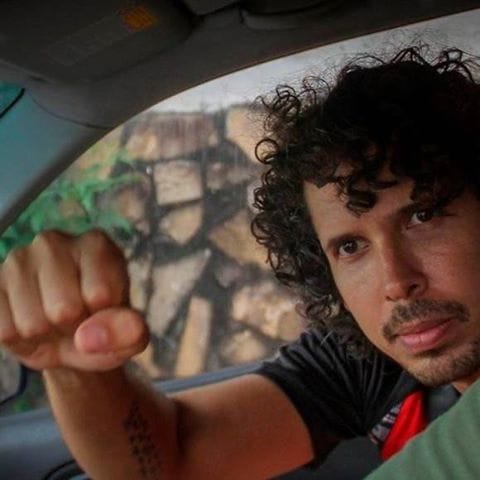 Chale, can you tell us about happened in Nicaragua?  
So this situation started when… well, we haven't really had it going very well for decades now. But I think that over the past 10 to 11 years, while Ortega was in power, things were running smoothly enough for the majority of the population to ignore politics and go about their normal lives. Those who were savvy to corruption within the administration, to the injustices - the people who were essentially paying attention to politics - were completely censored by the government. They were threatened, silenced, and that was usually just the end of it. Society reached a critical point, and perhaps the series of injustices and grievances grew too large, and it all just essentially exploded from there. Before the protests, for example,  our social security was bankrupt - but really bankrupt - after years of mishandling and - well, when the students got involved...
You mean when they cut pensions?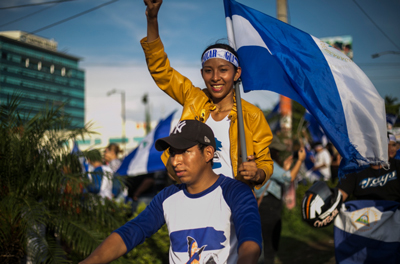 Yes, specifically when they cut pensions. This was the trigger, and everything built up to that moment. It's not the first time students protested in Nicaragua, but this was an instance where they took the lead and protested something that did not directly involve them -  pensions - and they mobilized others to join them. The lack of social security and opportunities and basic freedoms is something that affected the majority of the Nicaraguan population. And it was because the government decided to block these protests, in a very violent way, that everything went out of control. By the second day, civil society groups were assisting the students and the government began attacking civil society groups as well. The government turned into a repressive organ; it got really, really bad. The conflict has escalated since then.
You've emphasized earlier that you want dialogue and peace with the government, but in order to do that you need some common ground from which to proceed. Right now, however, the grievances of the Nicaraguan people include a sense of complete disenfranchisement and the government is not willing to lessen its control of power. Is this correct?  
Yes, exactly. The country belonged to Nicaraguans. We feel like it no longer does. If we wave our own national flag we'll be prosecuted and put in jail. Basic freedom is something we need back; definitely. We need the administration to be willing to give this to us.

For clarification about that, the Sandinista party has a specific red and black flag with FSLN written on it, which is now often flown even above the Nicaraguan flag. There have been instances of the Ortega administration cracking down on any person waving the Nicaraguan flag as a sign of protest- showing that it is now censorable material.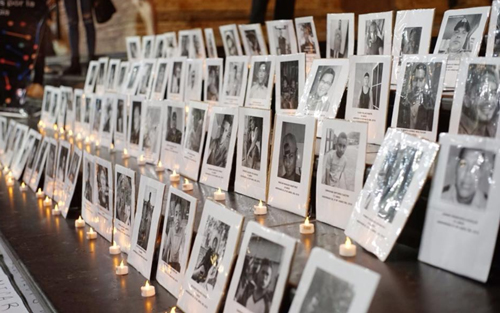 Yes, and this goes to show that the consequences are very clear if you are a protestor or a civil society group in Nicaragua right now. Us outside, trying to help, we advice those in the country to be smart and not take any unnecessary risks. The consequences of raising your voice are getting worse every day, but we are not afraid. Every little bit of help we can get out here while building our network can help. Raising awareness and communication is our strongest weapon. I think everyone can do their bit, and that together we can find our strength.
Throughout our long conversation about the subject, Chale described how difficult it is for civil society groups and activists in Nicaragua, as they are often targeted by police. He and many other activists and civil society leaders find themselves in exile. #SOSNicaragua is one of their tools to mobilize.
Can you tell us of your goal here today?
For us as a Nicaraguan community, opportunities like this are critical for what is going on in Nicaragua right now. I came to the Hague specifically because it is the peace capital of the world. There are so many organisations based here that specifically focused on the situations like we have in my country. We, as Nicaraguans, have been organising ourselves around Europe with no particular leader - around Spain, Germany, and a little bit in the Netherlands - and I think we now need to really mobilize and organise ourselves here abroad to see what we can mobilize back home. I want to build a strong network and have it be viable.
Can you elaborate on #SOSNicaragua?
#SOSNicaragua is not a specific organisation but a social media movement. It's essentially just a hashtag we use to raise awareness; there are some support groups in every country, for example, SOS Nicaragua NL, SOS Nicaragua Spain, that coordinate a bit to raise awareness for the cause. We have a global group as well that coordinates with all of them, and it cooperates with smaller groups from all around Europe, the Americas, and even Asia. What we want to do now; however, is to connect with large organisations that can mobilise aid for those in Nicaragua and in Costa Rica, where there are a lot of Nicaraguan refugees. Civil society is being stifled in Nicaragua, the population is completely disenfranchised, we must bring attention and resources to this problem in order to help the Nicaraguan people.