Event on Pathways to Inclusive Conflict Prevention. From a Research and Practice Perspective
Conflict prevention has become a major focus on the international agenda. From the times of Kofi Annan's pledge to move 'from a culture of reaction to a culture  of prevention´ to the three priorities that current UN Secretary General António Guterres said he would adopt:´prevention, prevention and prevention´. The challenge remains however how to shift from conceptualisation of conflict prevention to practical implementation. Key actors in this field are trying to identify what this concretely means for them to make prevention work.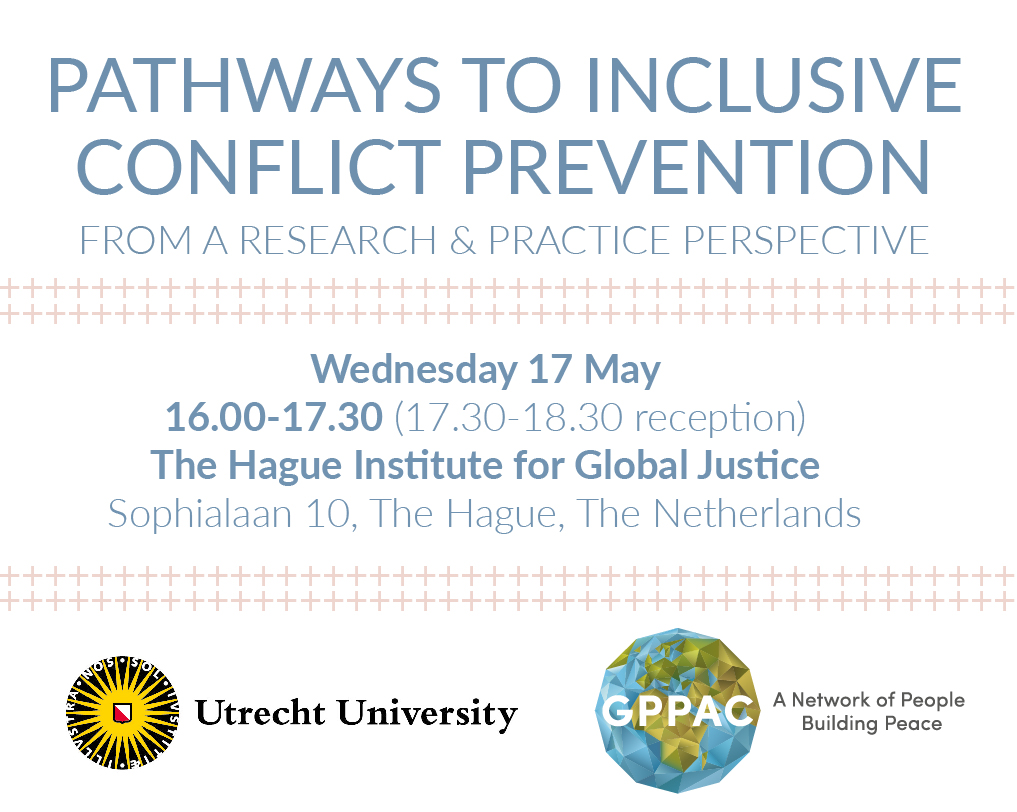 For almost two years, GPPAC and Utrecht University have been working together in the Whole of Society Conflict Prevention and Peacebuilding project (WOSCAP). This project, funded by the European Union under the Horizon 2020 programme, seeks to enhance the capabilities of the EU for implementing conflict prevention and peacebuilding interventions through sustainable, comprehensive and innovative civilian means. Although focused on the EU, the findings have identified some of the key challenges in the field of conflict prevention, some of which are mirrored elsewhere. It underscores the need to think further about what inclusive conflict prevention means in practice, and has highlighted a number of issues that demand further debate.
The Meeting
GPPAC and Utrecht University would like to use this occasion to reflect on the challenges and potential pathways to inclusive conflict prevention with researchers, international civil society practitioners and policy makers. The panel discussion will draw on practical experiences, knowledge and lessons learned from the speakers, which will draw partially on the findings from the WOSCAP project.
The WOSCAP research includes several thematic reports, but also case studies from Mali, Georgia, Ukraine and Yemen, which can be found here. The event will be preceded by a policy dialogue with representatives of the Dutch MFA, Ministry of Defence and other relevant stakeholders on some of the project's findings and recommendations on the EU's approach to Security Sector Reform (SSR).
Objective: to reflect on the challenges and potential pathways to inclusive conflict prevention efforts from a research, policy and practice perspective;
 
AGENDA
16:00 Start
5 min Welcome and description of the panel and goals of the event: Darynell Rodríguez Torres
10 min The state of the art of conflict prevention, based on WOSCAP findings. presentation by Georg Frerks (Utrecht University ETC)
45 min Discussion with the guests (Respondents, moderated by Darynell Rodríguez Torres)
Miguel Álvarez Gándara - GPPAC Board member & President SERAPAZ, Mexico   prof. Moussa Djire - Université des Sciences Juridiques et Politiques de Bamako, Mali   prof. dr. ir. Georg Frerks - Centre for Conflict Studies, Utrecht University & Netherlands Defence Academy   Ivana Gajovic - GPPAC Board member & Director Nansen Dialogue Centre, Montenegro   Gert Kampman - Deputy Director / Head Human Security Cluster at  Netherlands Ministry of Foreign Affairs   Moderated by Darynell Rodriguez Torres - Executive Director GPPAC 
20 min Q&A with the audience
10 min closing Sharon Baghwan Rolls, Chair GPPAC Board
Ends at 17:30
Reception: 17:30 - 18:30.
 
Please note that registration is needed, which can be done here.